Wood Flooring in Davie, Plantation, Coral Springs, Parkland, Broward and Surrounding Areas
5 reasons that make wood flooring the right choice
Sawgrass Floors provides wood flooring in Davie, Plantation, Coral Springs, Parkland, Broward, Sunrise. Here are some of the reasons that make wood flooring the right choice.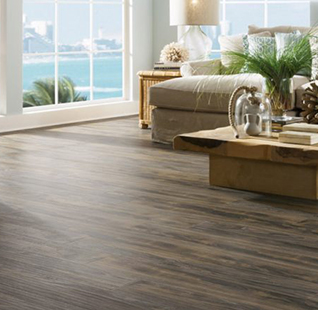 Aesthetic Appeal: Wood flooring offers timeless beauty and elegance that can enhance the overall aesthetic of any space. The natural grain patterns, textures, and warm tones of wood create a sense of warmth and sophistication, making it a popular choice for homeowners and interior designers alike. Wood floors can complement various design styles, from traditional to contemporary, and add a touch of natural charm to any room.

Durability and Longevity: Wood flooring is known for its durability and longevity. High-quality hardwood floors, when properly maintained, can last for decades and even generations. Wood is a sturdy material that can withstand heavy foot traffic, making it suitable for both residential and commercial applications. Additionally, wood floors can be sanded and refinished to remove surface scratches and signs of wear, revitalizing their appearance and extending their lifespan.

Easy Maintenance: Wood floors are relatively easy to maintain compared to other flooring options. Regular sweeping or vacuuming, along with occasional damp mopping, is usually sufficient to keep wood floors clean. Unlike carpets, wood does not trap dust, allergens, or odors, making it a healthier choice for individuals with allergies or respiratory sensitivities. Additionally, spills and stains can be quickly wiped away from wood surfaces, reducing the risk of permanent damage.

Versatility: Wood flooring offers a wide range of options in terms of species, colors, finishes, and plank sizes, allowing for customization to match any design preference. Whether you prefer the rich hues of oak, the exotic patterns of bamboo, or the sleek appearance of maple, there's a wood species to suit every taste. Furthermore, different finishes, such as matte, glossy, or distressed, can be applied to achieve various looks, from rustic to contemporary.

Increased Property Value: Installing wood flooring in your home can significantly increase its resale value. Wood floors are highly sought after by homebuyers due to their aesthetic appeal, durability, and timeless quality. Real estate studies have consistently shown that properties with wood floors tend to sell faster and at higher prices than those with other types of flooring. By choosing wood flooring, you not only enhance the beauty of your home but also make a wise long-term investment.
Please call us without any hesitation.