Waterproof Laminate and Laminate Flooring in and around Coral Springs, Parkland, Plantation, Sunrise, Weston, and all of Broward County
Don't be overwhelmed – ask us!
Most of us don't give our floors much thought – until it's time to replace them. Then you find you're overwhelmed by the many options available. Don't be! At Sawgrass Floors, we know that one of the best options for busy families whose floors need to stand up to kids and pets, laminate flooring is a great option.
Lower cost, long life.
Laminate flooring has been available in Europe for much longer than in the United States, but it's gaining in popularity every year. The most common designs have a quality wood grain appearance while some are made to look like stone or marble, making them great alternatives for high-traffic areas, like entries and kitchens. Designed for minimal maintenance and long life, laminate floors are an excellent lower cost option.
Most laminate floors consist of four-ply construction layers bonded together.
Backing or balancing layer
Moisture-resistant wood-based core of high- or medium-density fiberboard
Decorative layer
Wear-resistant layer of melamine resins.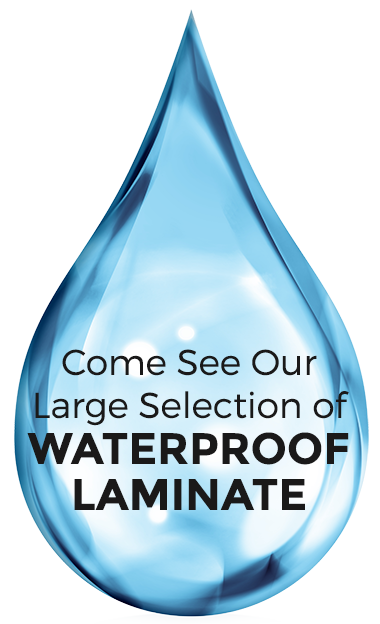 Exclusive brands at affordable prices.
Sawgrass Floors carries a large selection of the finest laminate floors, including various exclusive brands. We specialize in laminate floors installed all over South Florida – we're locally owned and operated and ready to show you a variety of exclusive, affordable laminate floors.
Contact Sawgrass Floors today for more information on our large selection of the finest laminate floors, including:
US Floors-Coretec
Mohawk-Solid Tec
Armstrong-Prizm
Quickstep-Luxury Vinyl Flooring
Manninton-Adura Max
Parkay XPS
Nuvelle-Density
Aqua Lok
Aqua Collection
We carry many exclusive brands of Waterproof Vinyl Laminate Flooring at affordable prices.
Ask us for details about this new flooring material that is hitting South Florida, offering non-buckling laminate flooring that is water resistant and will upgrade the look of your home our business.
Laminate is a versatile, durable product.
The balancing backing is bonded to the underside of the core while a wear-resistant decorative surface made of resin-based melamine and aluminum oxide is boned to the moisture-resistant wood core. It's all bonded together, and then a clear cap of aluminum oxide provides the later of stain resistance and protection laminates are famous for. And with its tongue-and-groove interlocking system, laminate floors are equally famous for their easy installation. Plywood, concrete, sheet vinyl, hardwood, or practically any other hard, flat surface is a suitable base for installing laminate floors. You just can't find an easier, more versatile product – beautifying your home with new laminate floors is truly a weekend warrior's project. And taking care of your laminate floor is even easier than its installation – simply vacuum or dust mop regularly to remove dirt or grit.