The term "laminate flooring" refers to a type of synthetic flooring that is constructed by laminating several distinct materials into a single unit. It usually has a fiberboard base, a photographic layer that looks like wood, stone, or tile, and a clear protective layer on top that makes it tough and resistant to moisture.?Laminate flooring?is made to look like natural materials like stone, tile, or hardwood, but it is also more affordable and lasts longer than those materials.?
Let us look at the benefits of using laminate flooring:
Affordable:?Laminate flooring typically costs less than other flooring options like tile or hardwood. Because of this, it is a popular choice among budget-conscious homeowners and commercial properties.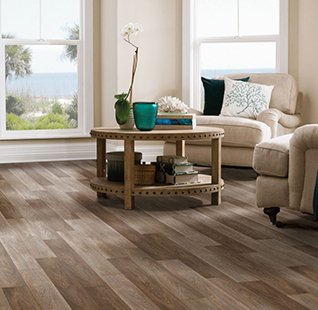 Simple to set up:?Installing laminate flooring is a relatively simple process that DIY enthusiasts frequently undertake. Panels of laminate flooring that click together and can be installed over an existing subfloor without the use of nails or glue are available.
Durable:?Laminate flooring is well-known for its long lifespan and resistance to stains, scratches, and dents. Because of this, it is an excellent option for homes with children and pets as well as places where there is a lot of foot traffic.
Low upkeep:?Laminate flooring is easy to clean with a damp mop or vacuum, and it requires little upkeep. Laminate flooring, in contrast to hardwood flooring, does not require regular waxing or refinishing.
Versatile:?The patterns, colors, and styles of laminate flooring are endless. It can replicate the appearance of stone, tile, or hardwood, making it an adaptable flooring option for a variety of design preferences.
Sawgrass Floors offers a wide range of high-quality laminate flooring, including several exclusive brands. We are a locally owned and operated company that specializes in installing laminate floors throughout Davie, Plantation, Coral Springs, Weston, Parkland, and Broward areas. We are prepared to demonstrate a selection of exclusive, cost-effective laminate floors to you.