Many of us don't have enough time to think about our house flooring and by the time we do, it's almost beyond repair. At Sawgrass Floors we understand your time constraints and have come up with laminate flooring as an alternative since they have a long life with minimal maintenance and come with a low-cost option. These kinds of flooring are gaining popularity in the States now. We have all the varieties available in the market be it the ones with the wood grain appearance or the ones with stone or marble finish. If you can't decide which one to go for, you can consult with our experts, who after understanding the type of wear and tear your house goes through would suggest you the perfect flooring accordingly. Our founders started this company with the philosophy: "Quality And Service You Can Stand On" and now even after 20 years we stand by the phrase and never give our customers a chance to complain. Apart from providing the finest quality flooring at competitive prices, we even offer unsurpassed warranties and exceptional customer service.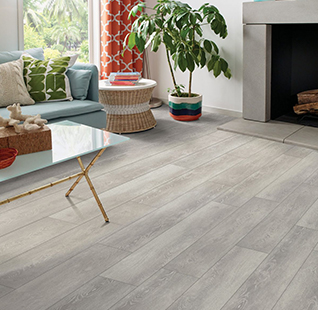 Below we have mentioned 3 reasons why laminate flooring is gaining popularity. Take a look.
Easy to install
With no mixing of grout or mortar, installation becomes a quicker process. Also, there would be no messy clean ups. An entire room can be finished in a day or two. It can be installed at any grade as long as the moisture banner is at place.
Wet mops are generally not recommended since the water can infiltrate the thinnest hairline cracks. The best way to clean laminate floors would be a fast clean swipe with a damp cloth since they are resistant to stains and spills.
The thin, transparent layer of laminate flooring is incredibly strong, scratch-resistant, and also resists UV fading. They give you the look of ceramic or hardwood but they don't crack or warp like them.
So, the people residing in Broward, Coral Springs, Davie, Parkland, Plantation, and Weston can call us today at (954)741-6600 for a consultation.