Floors add an aesthetic appeal to the indoors of your house. While building or renovating your home you have to select the type of flooring very wisely as unlike furniture and decorative pieces you cannot change it on a regular basis. We, at Sawgrass Floors, know that flooring is more or less a permanent component of your house and hence has come up with the largest selection of finest quality floors for you which are not only cost-effective but also durable. With over 20 years of experience in designing, installing, and beautifying floors, we now can gauge which type of flooring will look good in a particular kind of house. We have a team of fully licensed, bonded, and insured technicians who are thorough professionals and not subcontractors; hence they make sure that you receive the quality of service that you deserve. Our technicians have the knowledge and expertise to install hardwood floors, laminate floors, tiles, or even carpets.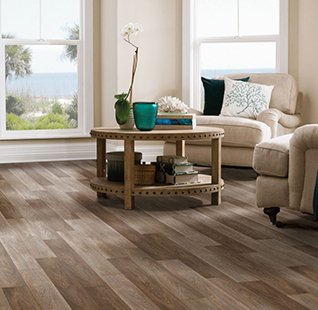 Below we have mentioned a few common types of flooring that we have at Sawgrass. Take a look. 
This comes in a wide range of colors and can easily be fixed by gluing. Since they come in rolls or tiles they can be easily installed without any hassles. Vinyl floorings are durable, easy to maintain, and cost-effective. Just like laminate they can also replicate the appearance of different materials.
Carpets usually come in wool, fibers like nylon, or polyester. They have all been heat-treated after being woven or twisted into tufts. Carpets, both durable and easy to maintain, also have insulating properties. However, they do get damaged by water and do stain quite easily.
These kinds of floor are made of compresses grass which is nailed or glued together. Though they are water-resistant and renewable which makes them quite durable, their soft structure makes them susceptible to dents and scratches.
So, if you live in Plantation, Coral Springs, Davie, Weston, Parkland, Broward, and in need of good and sturdy flooring, you can get in touch with us on (954) 741-6600.